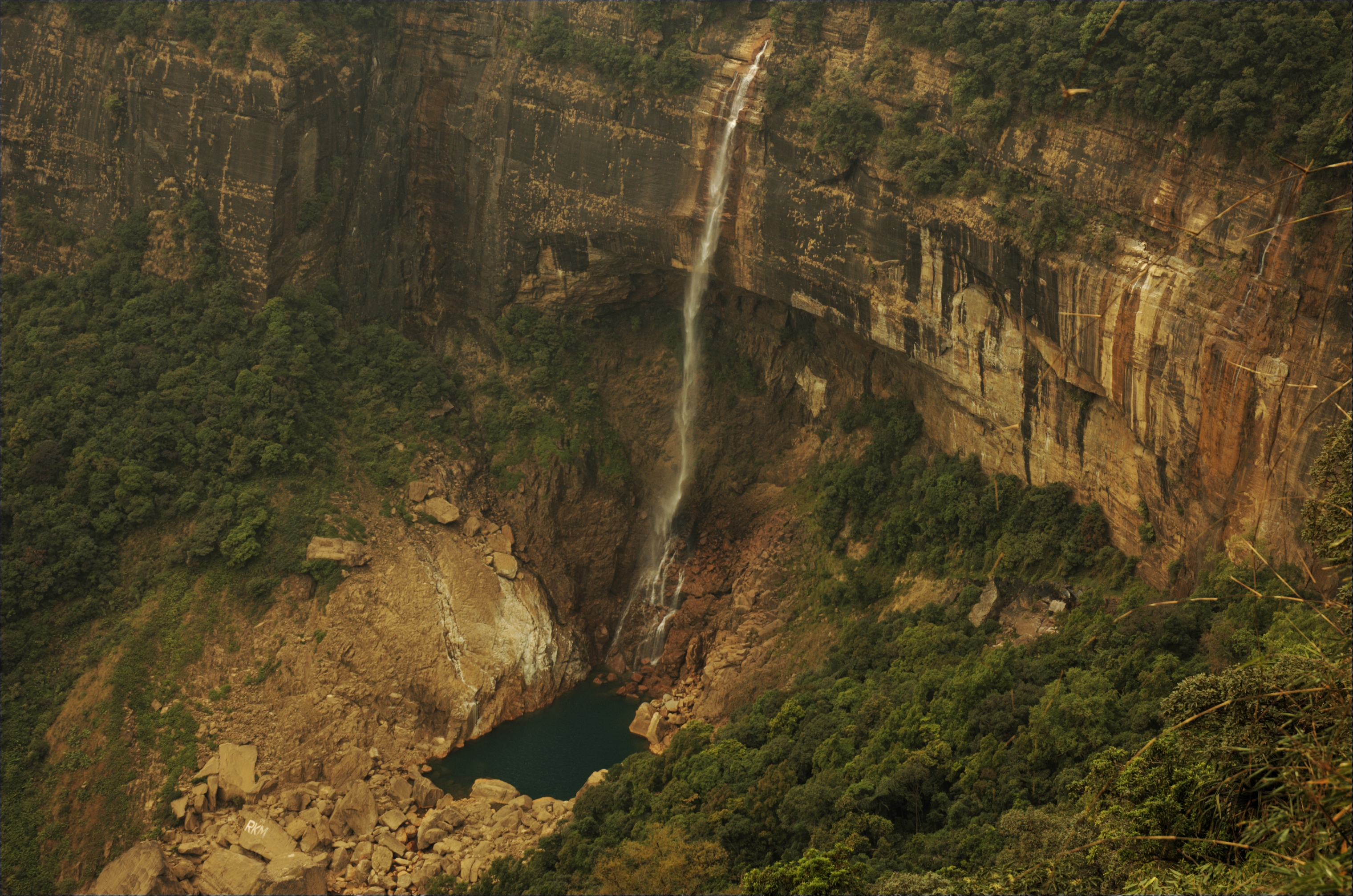 Meghalaya also offers many adventure tourism opportunities in the form of mountaineering, rock climbing, trekking and hiking, caving (spelunking) and water sports. The state offers several trekking routes, some of which also afford an opportunity to encounter rare animals. The Umiam Lake has a water sports complex with facilities such as rowboats, paddleboats, sailing boats, cruise-boats, water-scooters and speedboats.
Cherrapunji is one of the popular tourist locations in north-east of India. It lies to the south of the capital Shillong. A rather scenic 50 kilometre long road connects Cherrapunji with Shillong.
Living root bridges are also an important tourist draw, with many examples located near Cherrapunji. The famous Double-Decker root bridge, along with several others, is found in the village of Nongriat, which is tourist friendly. Many other root bridges can be found nearby, in the villages of Nongthymmai, Mynteng, and Tynrong. Other areas with root bridges include Riwai village, near the tourist village of Mawlynnong, Pynursla, especially the villages of Rangthyllaing and Mawkyrnot, and the area around Dawki, in the West Jaintia Hills district, where there are many living root bridges scattered throughout the nearby villages.
Umiam Lake, Shillong, Meghalaya, India
Waterfalls and rivers
The popular waterfalls in the state are the Elephant Falls, Shadthum Falls, Weinia falls, Bishop Falls, Nohkalikai Falls, Langshiang Falls and Sweet Falls. The hot springs at Jakrem near Mawsynram are believed to have curative and medicinal properties.
Nongkhnum Island located in the West Khasi Hills district is the biggest river island in Meghalaya and the second biggest in Asia. It is 14 kilometres from Nongstoin. The island is formed by the bifurcation of Kynshi River into the Phanliang River and the Namliang River. Adjacent to the sandy beach the Phanliang River forms a very beautiful lake. The river then moves along and before reaching a deep gorge, forms a pretty waterfall about 60 meters high called Shadthum Fall.
Sacred groves
Meghalaya is also known for its "sacred groves". They are small or large areas of forests or natural vegetation that are usually dedicated to local folk deities or tree spirits or some religious symbolism over many generations, often since ancient times. These spaces are found all over India, are protected by local communities, and in some cases the locals would neither touch leaves or fruits or in other ways damage the forest, flora or fauna taking refuge in them. This guardianship creates a sacred area where nature and wildlife thrive. The Mawphlang sacred forest, also known as "Law Lyngdoh," is one of the most famous sacred forests in Meghalaya. It's located about 25 kilometres from Shillong. It's a scenic nature destination, and one can find the sacred Rudraksha tree here.
Rural areas
Meghalaya rural life and villages offer a glimpse in northeast mountain life. The Mawlynnong village located near the India-Bangladesh border is one such village. It has been featured by travel magazine Discover India. The village is geared for tourism and has a Living Root Bridges, hiking trails and rock formations.
Lakes
Meghalaya also has many natural and manmade lakes. The Umiam Lake (popularly known as Bara Pani meaning Big water) on the Guwahati-Shillong road is a major tourism attraction for tourist. Meghalaya has several parks; Thangkharang Park, the Eco-park, the Botanical Garden and Lady Hydari Park to name a few. Dawki, which is located at about 96 Kilometres from Shillong is the gateway to Bangladesh and affords a scenic view of some of the tallest mountain ranges in Meghalaya and the Bangladesh border lands.
Balpakram National Park with its pristine habitat and scenery is a major attraction. The Nokrek National Park, also in Garo Hills has its own charm with lot of wildlife.
Caves
Meghalaya has an estimated 500 natural limestone and sandstone caves spread over the entire state including most of the longest and deepest caves in the sub-continent. Krem Liat Prah is the longest cave, and Synrang Pamiang is the deepest cave. Both are located in the Jaintia Hills. Cavers from United Kingdom, Germany, Austria, Ireland and the United States have been visiting Meghalaya for over a decade exploring these caves. Not many of these have however been developed or promoted adequately for major tourist destinations.
Living root bridges
Meghalaya is famous for its living root bridges, a kind of suspension bridge made over rivers using intertwined roots of Ficus elastica trees planted on opposite banks of the river or hill slopes. These bridges can be seen around Cherrapunji and Nongtalang (War-Jaintia). A double-decker bridge exists in Nongriat village.
A double-decker living root bridge in Nongriat, Meghalaya
Other important places of tourism interest Meghalaya include:
Jakrem

: 64 km from Shillong, a potential health resort having gushing hot-spring of sulphur water, believed to have curative medicinal properties.

Ranikor

: 140 km from Shillong, a place of scenic beauty. Ranikor is one of Meghalaya's most popular spots for angling, with an abundance of carp and other fresh water fish.

Dawki

: 96 km from Shillong, is a border town, where one can have a glimpse of the neighbouring country of Bangladesh. The colourful annual boat race during spring at the Umngot river is an added attraction.

Kshaid Dain Thlen Falls

: Located near Sohra, meaning the falls where the mythical monster of Khasi legend was finally

butchered

. The axe-marks made on the rocks where Thlen was butchered are stillintact and visible..

Diengiei Peak

: Located to the west of the Shillong plateau, Diengiei Peak is just 200 feet lower than Shillong peak. On the top of Diengiei, there is a huge hollow, shaped like a cup, believed to be the crater of an extinct pre-historic

volcano

.

Dwarksuid

: A beautiful pool with wide, rocky sand banks located on a stream alongside the Umroi-Bhoilymbong Road is known as Dwarksuid or Devil's doorway.

Kyllang Rock

: Located about 11 kilometres off Mairang, is a several million years old steep dome of red granite rising to an elevation of about 5400 feet above sea level.

Sacred Forest Mawphlang

: One of the most celebrated sacred-groves of the State is the grove at Mawphlang about 25 kilometres off Shillong. Preserved since time immemorial, these sacred groveshave wide range of

flora

, thick cushion of humus on the grounds accumulated over the centuries, and trees heavily loaded with epiphytic growth of

aroids

,

pipers

,

ferns

, fern-allies and

orchids

.